For those who haven't yet tasted "havyaka" delicacies, here's an opportunity to sample authentic and traditional havyaka home-made dishes. Havyaka is a clan of Brahmins who are settled in and around Shimoga, Chickmagalur, Uttara-Kannada and Dakshina-Kannada districts. They speak a dialect called "havyaka kannada", which is a variant of kannada closer to halegannada (old kannada). They are pure vegetarians who know a lot of "grandmother's recipes" which are very beneficial to health.
As you know, the Malnad people are noted for the extraordinary hospitality they shower on their guests. We provide nutritious and hygienic food prepared out of locally available leaves, roots and such other vegetables that you might have never tasted. Most of the vegetables are grown inside the farm and are organic in nature. Mouth-watering dishes and lip-smacking sweets, which you relish here will surely be lingering in your mind for a long time and will be pulling you back to this place repeatedly.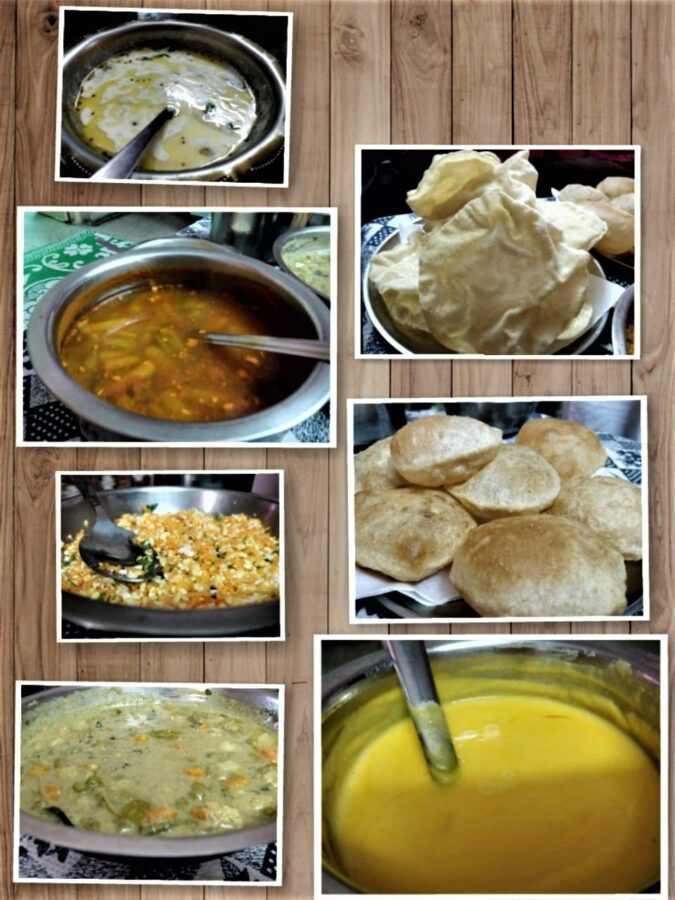 Breakfast includes two items which could be any of Dosa, Chapathi, Idli, avalakki, uppit and others served with chutneys prepared with exotic leaves which are therapeutic in nature. If you are familiar with havyaka recipes, requested recipe can be prepared at no additional cost. Tea/coffee will also be served. Also, drinks like majjige, cocum juice etc are provided depending upon the season.
Lunch and Dinner: Only vegetarian food is served consisting of rice, sambhar, varieties of tambalis (a very tasty havyaka speciality made from varieties of leaves), gojju (a variety of chutney), hashi (another havyaka delicacy similar to raitha). Sweets can be obbattu also known as holige, todedavvu etc. Please do a google search on "havyaka recipes" to get more information on havyaka food, if needed.
You can also find some products like Honey, Black Pepper, Cashew nut, Areca nut, Jaggery, Cocum etc in the HomeStay at reasonable prices. Most of these are home-grown. Please note that the availability of these items is season and stock dependent. Please enquire about these products at the HomeStay itself.